EQUINOX STRATEGY PARTNERS
Equinox Strategy Partners' Lana Manganiello Recognized as DE&I Champion by Los Angeles Business Journal
Presented by: Los Angeles Business Journal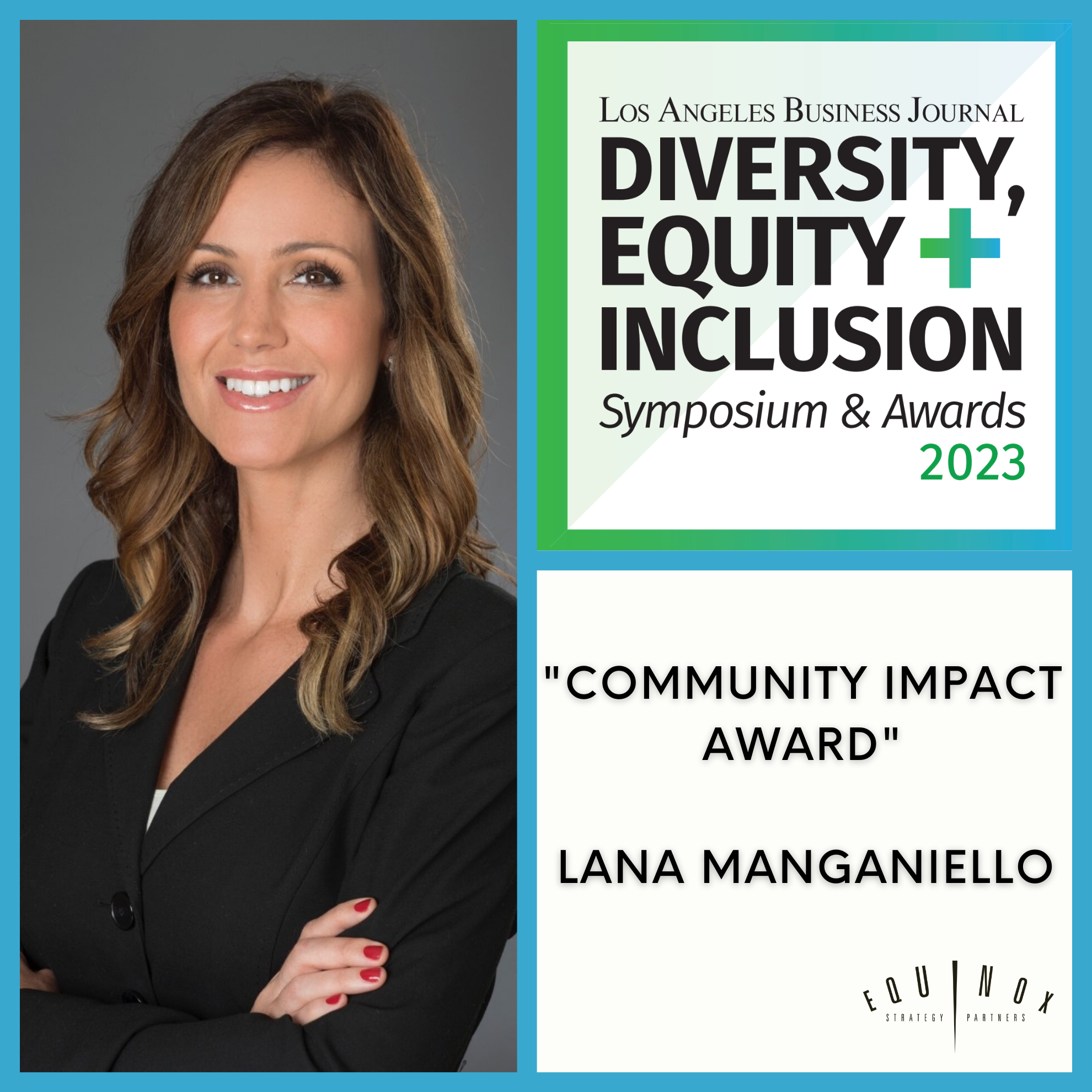 LOS ANGELES – March 27, 2023 – Equinox Strategy Partners' Managing Director Lana Manganiello has once again been recognized by the Los Angeles Business Journal for its annual 'Diversity, Equity + Inclusion Symposium & Awards' and profiled in a special feature, published today. The 2023 'Diversity, Equity + Inclusion Symposium & Awards' recognizes "diversity, inclusion, and equity champions in the LA region for their ongoing efforts to advance diversity and inclusion in the workplace and business leadership," says the publisher, Josh Schimmels.
"As a consulting firm focused on driving positive change, we couldn't be more proud to have such a passionate and dedicated professional like Lana leading the charge on interweaving diversity, inclusion, and equity throughout all our work," said Equinox Strategy Partners' Managing Partner Jonathan R. Fitzgarrald. "Her selection is a testament to the tireless work she has put in to further these important issues, and we are thrilled to support her."
Manganiello has devoted over 15 years to coaching and training new and experienced lawyers and other service professionals on topics related to annual business planning, business development, and marketing. Trained and certified through Cornell University in Diversity and Inclusion, she is dedicated to working with law firms to create cultures of belonging where women and diverse professionals thrive.
Manganiello partnered with the Los Angeles County Bar Association (LACBA) this past summer to conduct an anonymous associate survey covering topics including partnership and long-term career goals, connection and support at work, professional development, communication, and compensation.  LACBA published the results in the Early Career Attorney Report, authored by Manganiello, to provide law firm leadership with data so that they may implement changes that will meaningfully attract, retain and develop the next generation of leaders in law.
Recently recognized as an "Diversity Champion" by Consulting Magazine and named a 'Inspirational Woman' by the Los Angeles Times, Manganiello volunteers her time with several organizations throughout Southern California. She serves as Vice President on the Board of Directors and Chair of the Marketing Committee for Counsel for Justice, the Los Angeles County Bar Association's pro-bono arm providing equal access to legal services in the community. She also serves on the Board of Directors for the San Diego County Bar Foundation and is the Membership Chair of the Legal Marketing Association's Southern California Steering Committee.  Manganiello serves on the Professional Development Section Committee and DEI Section Committee of the National Association for Law Placement (NALP).
Equinox Strategy Partners, headquartered in Los Angeles with additional offices in New York and San Diego, concentrates on training and coaching lawyers and firms.  Manganiello and the team at Equinox Strategy Partners facilitate 12-month, professional and business development coaching and training programs that instill the relationship development and client service skills required to build a fulfilling practice and to thrive in the legal profession.
Share This Story, Choose Your Platform!