EQUINOX STRATEGY PARTNERS
Equinox Strategy Partners' Jonathan Fitzgarrald and Lana Manganiello Named Global Leaders In Legal Strategy & Consulting
Presented by: Lawdragon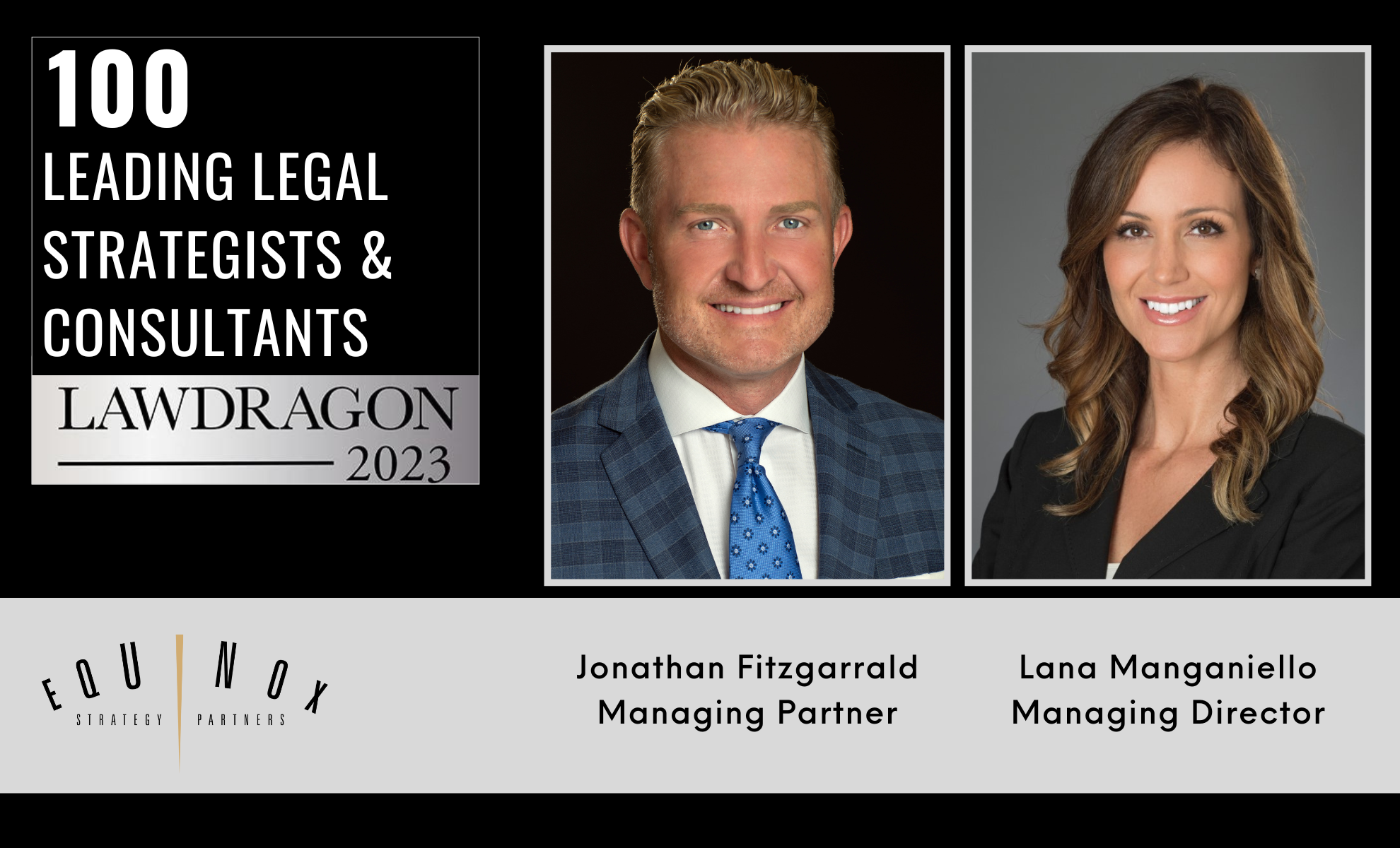 LOS ANGELES, April 25, 2023 /PRNewswire/ — Equinox Strategy Partners ' Managing Partner Jonathan Fitzgarrald  and Managing Director Lana Manganiello  have been recognized in the 2023 Lawdragon "Global 100 Leaders in Legal Strategy & Consulting." Fitzgarrald has been selected as one of only two honorees recognized in the Strategic Marketing Consulting category and Manganiello is the only honoree to be selected in the Management & Leadership category.
"These leaders represent the remarkable array of advisors who have helped the legal industry grow into a global business generating hundreds of billions in revenues," states the publisher.  "A part of the mystique of this group is not just their skills, but their ways with top lawyers – a notoriously perspicacious group, … the best legal leaders have evolved to accept advice from those who know their field cold."
Fitzgarrald spent nearly 20 years in-house at various firms, directing business development, marketing, public relations and communications. Nearly eight of those years were spent as Chief Business Development Officer at Greenberg Glusker , a full-service law firm. In 2015, Jonathan established Equinox Strategy Partners to advise professionals nationwide to tap into their own potential to generate revenue. Many of the firms Fitzgarrald advises report up to 20 percent increases in revenue within the first year.
Trained and certified through Cornell University in Diversity and Inclusion, Manganiello is committed to working with law firms to develop diverse professionals and improve diversity at the leadership level.  Manganiello and her team developed the Associate Advancement Accelerator to create a foundation of relationship development/marketing skills early on in a lawyer's career while building feelings of belonging and autonomy. Manganiello has devoted over 15 years to coaching and training new and experienced lawyers and other service professionals on topics related to annual business planning, business development, and marketing.
Fitzgarrald is a longtime leader of the Legal Marketing Association  and served on the board of advisors of the Legal Sales and Service Organization . Fitzgarrald is a Fellow in the College of Law Practice Management.  He has recently been featured in Los Angeles Business Journal's "Leaders of Influence: Thriving in Their 40s" and named a "Business Visionary" by the Los Angeles Times.
Manganiello has recently been recognized as a "DE&I Champion" by Los Angeles Business Journal, "Diversity Champion" by Consulting Magazine and named an "Inspirational Woman" by the Los Angeles Times.  Manganiello is dedicated to helping underserved populations receive access to justice and serves as Vice President on the Board of Directors for Counsel for Justice  and also on the Board of Directors for the San Diego County Bar Foundation .  She serves and is the Membership Chair of the Legal Marketing Association's Southern California Steering Committee and on the Professional Development and DEI Section Committees of the National Association for Law Placement (NALP).
Equinox Strategy Partners, headquartered in Los Angeles with additional offices in New York and San Diego, concentrates on training and coaching lawyers and firms.  Manganiello and the team at Equinox Strategy Partners facilitate 12-month, professional and business development coaching and training programs that instill the relationship development and client service skills required to build a fulfilling practice and to thrive in the legal profession.
Share This Story, Choose Your Platform!