EQUINOX STRATEGY PARTNERS
Equinox Strategy Partners' Lana Manganiello Named Among San Diego's Top Diversity Professionals in 2023
Presented by: San Diego Business Journal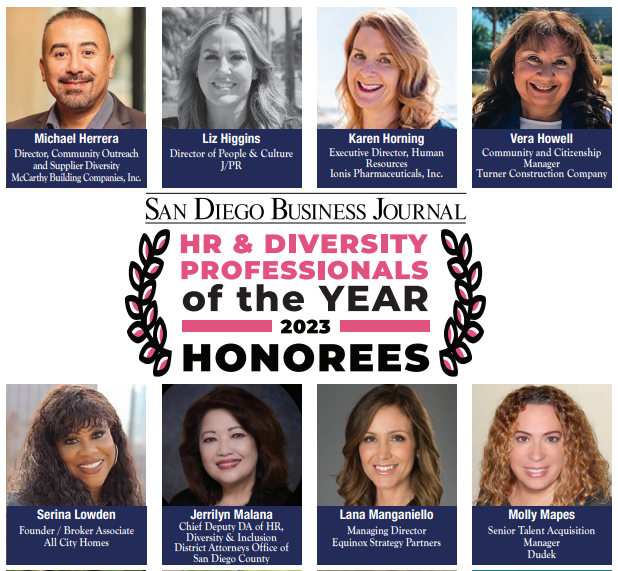 LOS ANGELES – June 1, 2023 – Equinox Strategy Partners' Managing Director Lana Manganiello has been recognized as one of San Diego's Top Diversity Professionals in 2023 by the San Diego Business Journal. Manganiello's work in accelerating the career development of diverse attorneys and fostering inclusive climates within law firms has made her a pivotal player in diversity and inclusion initiatives within the legal profession.
"There is no question that Lana is committed to enhancing diversity, inclusion, and equity in everything we do," said Equinox Strategy Partners' Managing Partner Jonathan R. Fitzgarrald. "This recognition is a testament to the progress she has made within our own organization, among clients and throughout the legal community."
Trained and certified through Cornell University in Diversity and Inclusion, Manganiello "has devoted substantial time and effort to working with law firms to create environments of belonging where diverse attorneys can thrive, subsequently improving retention rates and increasing diversity in law firm leadership," states the profile.
Last summer, Manganiello partnered with the Los Angeles County Bar Association to investigate why the leaders in the legal profession continue to "predominantly consist of white males, despite the diversity of associates entering the profession in recent decades." The publication adds that Manganiello authored the Early Career Attorney Survey, "providing leaders in the legal profession with valuable data to enable the implementation of changes that meaningfully attract, retain, and develop the next generation of diverse leaders in law."
Recently recognized as a 2023 "Global Leader in Legal Strategy and Consulting" by Lawdragon and a "Diversity Champion" by Consulting Magazine, Manganiello dedicates her time to several organizations throughout Southern California. As an advocate for equity and justice, she serves as President Elect on the Board of Directors for Counsel for Justice, the Los Angeles County Bar Association's pro-bono arm, and on the Board of Directors for the San Diego County Bar Foundation.  Additionally, she is the Membership Chair of the Legal Marketing Association's Southern California Steering Committee and is active in the National Association for Law Placement (NALP).
Equinox Strategy Partners, with headquarters in Los Angeles and additional offices in New York and San Diego, focuses on training and coaching lawyers and firms. Manganiello and the team at Equinox Strategy Partners facilitate year-long professional and business development coaching and training programs that equip professionals with the relationship development and client service skills required to build a fulfilling practice and to flourish in the legal profession​.
Share This Story, Choose Your Platform!