EQUINOX STRATEGY PARTNERS
Equinox Strategy Partners' Lana Manganiello Selected as Finalist in 2023 DEI Awards by San Fernando Valley Business Journal
Presented by: San Fernando Valley Business Journal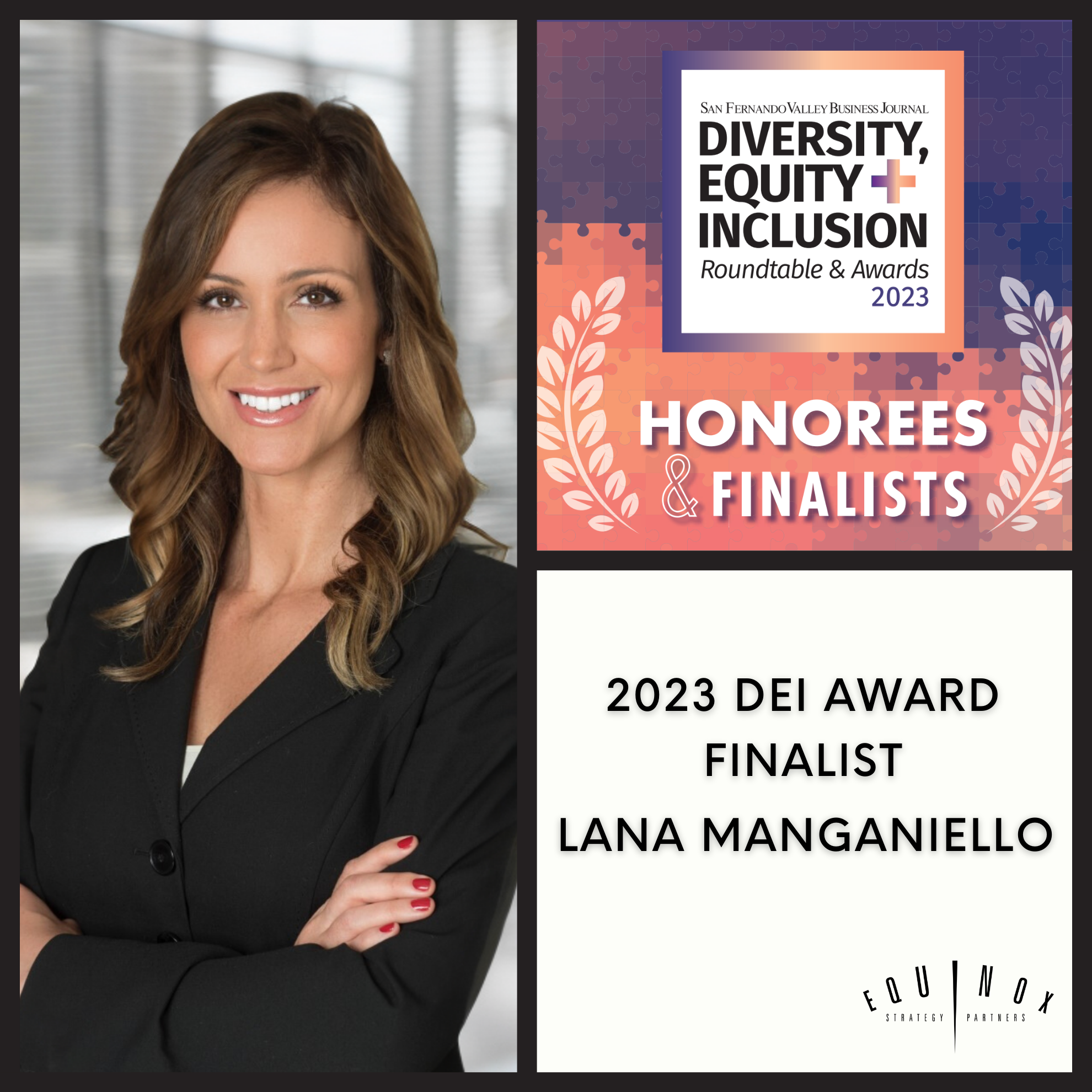 LOS ANGELES – May 29, 2023 – Equinox Strategy Partners'  announced today that Managing Director Lana Manganiello has been selected as a Finalist for the 2023 Diversity, Equity, and Inclusion (DEI) Awards by the San Fernando Valley Business Journal.
The Journal's second annual DEI Awards recognize individuals and organizations "leading by example through impactful programs and proactive initiatives" that excel in the DEI space, says the publisher. The DEI Award Finalists are recognized as some of the nation's most influential thought leaders in DEI, noted for "demonstrating genuine commitment and setting bar-raising best practices."
"Lana's commitment to fostering a culture of diversity, equity, and inclusion within the legal profession is not just remarkable; it's essential in today's environment," adds Jonathan Fitzgarrald, Managing Partner at Equinox Strategy Partners. "Her dedication to advancing professionals in the legal community, and her unrelenting focus on DEI initiatives have proven to be transformative. We are proud of Lana's recognition as a DEI Award Finalist, a well-deserved acknowledgment of her hard work and innovative approach."
Manganiello is a frequent author on DEI within the legal profession, particularly focusing on the intersection of developing "essential skills", business development training, and law firm DEI initiative success. This recognition follows Manganiello's recent accolades from the San Diego Business Journal,  Lawdragon Global 100, and Consulting Magazine. As an advocate for equity and justice for all, Manganiello serves as President Elect on the Board of Directors for Counsel for Justice, the Los Angeles County Bar Association's pro-bono arm, and on the Board of Directors for the San Diego County Bar Foundation. These honors continue to cement her reputation as a trailblazer in promoting diversity and inclusion within the legal profession.
Equinox Strategy Partners, with headquarters in Los Angeles and additional offices in New York and San Diego, focuses on training and coaching lawyers and firms. Manganiello and the team at Equinox Strategy Partners facilitate year-long professional and business development coaching and training programs that equip professionals with the relationship development and client service skills required to build a fulfilling practice and to flourish in the legal profession​.
Share This Story, Choose Your Platform!